All the perks of our Signature Tank Tops but in a Racerback Tank!
Put yourself first and get your hands on the Best. Tank. EVER. Say goodbye to incessantly pulling down your top and say hello to your newfound confidence! Go about your day with poise and conviction knowing that you look good AND feel good.
BENEFITS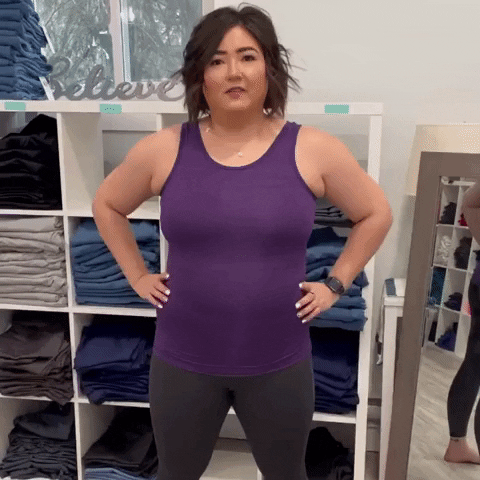 ✓ Doesn't ride up - no fidgeting and no pulling down needed.

✓
Made in Canada
 - because we believe in ensuring our products are made with the highest quality fabric and craftmanship.
✓
Keeps everything in place
- no matter what size, you can count on our tanks to keep everything secure! They are fitted and feel like a soft 'hug'.
✓
Moisture-wicking
- allow your skin to breathe and stay dry when you sweat, perfect for staying cool in the warmer months.
✓
Modest neckline and longer than most
- no fashion faux pas here! Keep the girls in place and covered at all times with no spillage. Longer than most so to provide extra security.
✓ Versatile - whether you're about to have a killer workout or you're going to run errands, wear our tank on it's own or layer it under a sweater or coat.
MATERIAL & CARE

86% Polyester 14% Spandex
Cold water wash & hang to dry

FIT
Fitted and true to size
Beat tank top ever, no sliding up, stays put. True to size.
racerback tank top reviewe
the BEST tank top I have ever tried and, as a dancer, I've tried A LOT! It is incredibly soft and comfortable, very flattering and, most incredibly, always stays in place. No adjustments ever needed! These tank tops are a dream!
Fits good but length is shorter than the regular tanks
I love the smoothie tanks and ordered a black one in racerback because there wasn't a regular back in black. I found the length shorter than my other regular back one and tended to roll up. I will try to order a regular back one when black becomes available and only wear the racerback when I absolutely have to.
Racerback Tank is amazing...
I had purchased the original style in the past and loved it. I ordered the Racerback style this time and I love it more. The style is very comfortable and stylish. I will order again in a different color for more options in my wardrobe. These tanks are my #1 go-to tanks. Thank you, Smoothies for your great products!
Reasons to Love the Signature Tank
"Wearing a Smoothies Tank feels like you're wearing a hug. I don't know how to describe them any other way."